Burson Audio Timekeeper 3X GT Available Now!

The technological progress that Burson Audio has experienced in recent years in the field of power supplies has meant that their amplifiers do not need the transformer, the linear power supply and the enormous power limits that including them would imply. Also, removing those old technologies and their limitations has given their equipment superior sonic performance. As a result, and in terms of dimensions, weight and price, Burson Audio equipment outperforms any transformer-based amplifier.
The new Timekeeper 3X GT comes to fight one on one against the aristocrats of the industry.
The Timekeeper GT is a Class AB amplifier. Utilizing Burson Audio's patented Max Current Power Supper (MCPS) and including an innovative cooling system, it produces significantly more Class A power than competitive equipment while featuring a more attractive design.
Idle power is an important performance indicator when comparing Class AB amplifiers with similar outputs. The higher the idle power, the higher its performance in pure Class A. But, it also means a larger transformer, higher temperatures, more power limits and production costs...
The TK-GT consumes 100 W at idle and puts out the first 30 W in pure Class A. The result is a luscious, sparkling vocal high that was once reserved for the lucky few. The rest of its 180 watts drives any loudspeaker to its maximum dynamics.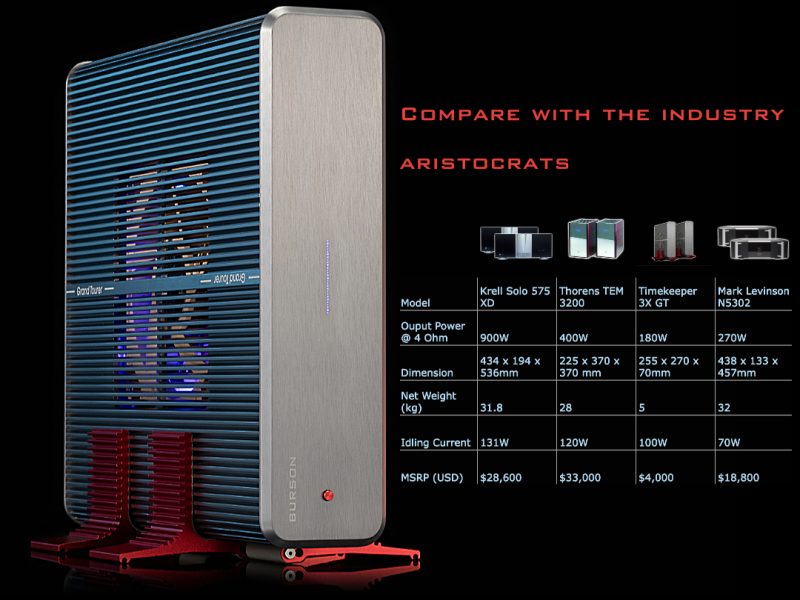 Maximum power, minimum noise!
The TK-GT is fully discrete with no integrated circuits (ICs) in its audio path.
Its direct coupled circuitry features a fully differential input stage. By not using a transformer or coupling cap in the signal path, the GT achieves the highest dynamic response possible.
Also, being a separately powered monoblock, the TK-GT eliminates cross-channel interference and delivers a wider soundstage with pure black background sound.
Temperature is no longer a problem.
With each component operating in a predetermined temperature range, regardless of the environment, active cooling gives us the freedom to push the GT to its performance limit.
In combination with the exclusive Cool Case, the TK-GT uses the quietest fan from Noctua (Austria) to reduce wind noise. It's quieter than an empty recording studio and more peaceful than most of the power transformers used in traditional amplifiers, which vibrate at a more audible frequency.
Imagine all the power of the best stages on the market in such a small size, and with this value for money. The Burson Audio Timekeeper 3X GT is without a doubt a fantastic option.


Your Burson Timekeeper 3X GT purchase includes:
Timekeeper GT Mono Amp (R300)
Burson Super Charger 32V / 6.5A Power Unit
Cool Stand (GT Red)
12V Trigger Wire
Related products
BURSON AUDIO Timekeeper 3X Grand Tourer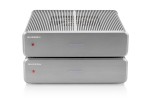 Share this content
Add a comment