The Eversolo DMP-A6 represents a significant breakthrough in the evolution of streaming devices by addressing previous limitations in the industry and ushering in a new era in music playback.
This player offers a number of outstanding features that guarantee an exceptional audio experience:
- Comprehensive Music Player: With a powerful quad-core processor and generous memory, it delivers a high-quality music playback experience.
- Versatile Connections: Offers a wide range of digital ports, including multi-channel HDMI DSD, dual ESS9038Q2M DACs and fully balanced audio circuitry.
- EOS Proprietary Audio Engine: Developed in-house, preserves the original sample rate without Android SRC restructuring.
- Master Recording Compatibility: Supports high quality master recording formats such as FLAC, WAV, APE, DSD512 and MQA.
- 6-inch LCD Touch Screen: Facilitates system configuration and local music library management.
- DOH Processing Chips for HDMI DSD Multi-channel: Ensures high quality DSD master music playback.
- Internal High-Speed M.2 SSD Slot: Enables storage expansion without removing the enclosure.
- High Performance Power Module: Provides cleaner power and clearer sound.
- Extensive Input and Output Connectivity: Can be used as a digital turntable and decoder, with connection options including HDMI, USB, optical, coaxial, Bluetooth aptX HD and more.
- Support for High-Resolution Audio Formats: Includes DSD512, 32-bit PCM768 and MQA decoding for exceptional audio quality.
- Fully Balanced Preamplified Circuitry: Eliminates noise and improves signal quality.
- ES90382QM Dual DAC Chip: Provides high quality independent conversion, reducing interference and improving audio performance.
- High-Quality Audio Components: Includes leading components such as WIMA capacitors from Germany and operational amplifiers from Texas Instruments in the USA.
- MQA Technology: Enables playback of MQA audio files and streams while maintaining the quality of the original master.
- Extensive Music Streaming Options: Compatible with popular services such as Tidal, Qobuz, Hi-Res, Amazon Music, Roon Ready, Spotify Connect, Tidal Connect, DLNA and AirPlay.
- Local Music Library and Media Management: Facilitates local music management, including adding files, retrieving metadata and organising the library.
- CD Playback and Rip: Enables CD playback and lossless track ripping via a dedicated application.
- Smart Control Application: Provides control apps for Android, iPhone and iPad devices, simplifying music management and playback.
- Custom Digital Filters and Custom Vumeters: Offers digital filter customisation options and real-time dynamic vumeter display.
- Exceptional Design: Made with aircraft aluminium and a CNC machined body, it combines classic and modern elements in a solid and attractive design.
The Eversolo DMP-A6 redefines the experience of music and high quality audio, delivering exceptional performance and a wide range of features to satisfy the most demanding audiophiles. This player is the perfect choice for those looking for the best in uncompromising music playback.
Product Specifications:
MODEL: EverSolo DMP-A6
DISPLAY: 6" LCD touchscreen display
INTERNAL MEMORY: 4 GDDR4 + 32 GeMMC
DAC: 2 x ES9038Q2M
AUDIO PROCESSOR: XMOS XU316
OPERATIONAL AMPLIFIER CHIP: OPA1642
POWER SUPPLY: Low-noise switching power supplies
HARD DRIVE BAY: M.2 NVME 3.0 2280 protocol, up to 2TB
USB PORT: 2 x USB3.0 port
ETHERNET RJ-45Z (10/100/1000 Mbps)
WIFI 2.4 GHz + 5 GHz dual band
SUPPORTED MUSIC FORMATS: DSD512, PCM 768 kHz / 32 Bit, MQA
MUSIC SERVICES: TIDAL, Qobuz, High Res Audio, Amazon, WebDAV, UPnP
BROADCASTING: Air Play, DLNA, Roon Ready, Spotify, Tidal Connect, Qobuz Connect, etc.
BLUETOOTH: Bluetooth 5.0
COMPATIBLE BLUETOOTH CODECS: SBC / AAC / aptX / aptX LL / aptX HD / LDAC
FORMATS SUPPORTED BY USB TYPE C PORT: DSD512, PCM 768 kHz / 32 Bits, MQA
DIGITAL OPTICAL / COAXIAL INPUT: PCM 192 kHz / 24 Bits, DSD64 Dop, MQA
DIGITAL OPTICAL / COAXIAL OUTPUT: PCM 192 kHz / 24 Bits, DSD64 Dop, MQA
HDMI AUDIO OUTPUT: Native multi-channel DSD64 / PCM 192 KHz unformatted multi-channel output
CONTROL METHOD: Mobile application, Touch screen control
XLR BALANCED OUTPUT:
OUTPUT LEVEL: 5.2 V
FREQUENCY RESPONSE: 20 Hz ~ 20,000 Hz (±0.15 dB)
DYNAMIC RANGE: >128 dB
SIGNAL/ NOISE RATIO: >128 dB
TOTAL HARMONIC DISTORTION + NOISE (THD+N): <0.00009% (-120 dB) (A-weighted)
CHANNEL SEPARATION: >-125 dB
SINGLE ENDED RCA OUTPUT  
OUTPUT LEVEL: 2.6V
FREQUENCY RESPONSE: 20 - 20,000 Hz (±0.2 dB)
DYNAMIC RANGE: >124 dB
SIGNAL / NOISE RATIO: >124 dB
TOTAL HARMONIC DISTORTION + NOISE (THD+N): <0.00011% (-119 dB) (A-weighted)
CHANNEL SEPARATION: >-124 dB
POWER SUPPLY 110 - 240 V AC, 50/60 Hz
POWER CONSUMPTION: 13W
STANDBY POWER CONSUMPTION: <0.5 WATT
DIMENSIONS: 90 mm (Height) x 270 mm (Width) x 187 mm (Depth)
ACCESSORIES:
Power cable
USB cable
Screwdriver
User manual
You might also like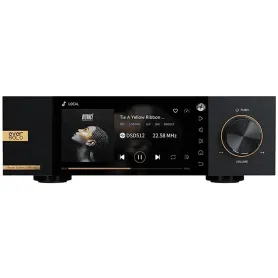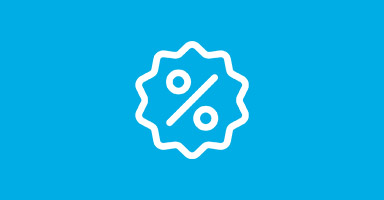 If you pay by bank transfer you will get an extra 3% discount on your order.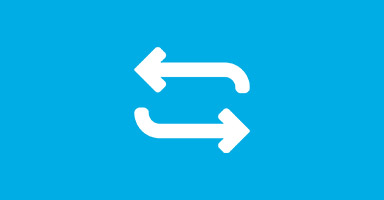 Do you want to renew your system?
Would you be interested in exchanging a device when purchasing this item?
Complete this form