New Pro-Ject E1 turntable


The veteran and reference firm in vinyl Pro-Ject Audio Systems has just launched the E1 in three versions. Know all its details.
Year after year we have seen how the veteran and prestigious Austrian firm Pro-Ject Audio Systems has launched true high-fidelity turntables on the market at increasingly affordable prices for the general public. Now it has just launched the E1, the first model of the new range of E turntables.
The E1 expands Pro-Ject's product portfolio to deliver high-end musicality, build quality and finish to give a new generation of users access to the world of hi-fi vinyl. The E1 from Pro-Ject Audio Systems is the first E-Line turntable, designed to deliver a great sound experience on a budget, handcrafted in Europe. It doesn't matter if you're a beginner or an experienced vinyl enthusiast, it won't let you down.
The new E1 is available in three different versions to suit everyone's needs. All three models are equipped with a 33/45 RPM electronic speed switch. The E1 Standard (includes phono cartridge), the E1 Phono (includes phono cartridge and phono preamp) and the E1 BT (includes phono cartridge, MM phono preamp and Bluetooth 5.0 connectivity).



Thanks to the number of turntables and turntables that the Austrian firm designs and manufactures throughout the year, they allow them to take advantage of powerful economies of scale to equip the Pro-Ject E1 with components and materials absolutely impossible to find in similarly priced equipment. Available in a gloss black, gloss white or walnut finish, the elegant CNC-machined fiber composite plinth is carefully crafted to ensure there are no gaps inside. The 8.6" low-friction, lightweight aluminum tonearm is optimized for the high-quality Ortofon OM5e cartridge and will bring out its full potential. The new ABS polymer main plate is reinforced with specially designed ridges to create an ideal anti-resonance platform for your vinyl. To protect your E1 from dust, you'll also find a stylish acrylic cover with adjustable hinges in the box. Featuring premium materials, elegant aesthetics and rich, vivid sound, the extensive development process has ensured that sound performance has not been compromised despite such an affordable price.
The E1 is complete with a high quality phono cable and, in the case of the Phono and BT versions, with gold plated RCA connectors.

The three versions of the Pro-Ject E1 are available at www.audiohum.com
Pro-Ject E1 Standard (€299): https://bit.ly/3yL5arm
Pro-Ject E1 Phono (€329: https://bit.ly/3nIQ6nF
Pro-Ject E1 BT (€399): https://bit.ly/3RiX6W4

Need more information? Contact Us
Telephone: +34 637 880 948
Email: info@audiohum.com
Address: Calle Avellano 21, 14006 Córdoba
Related products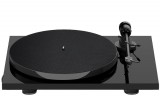 Share this content
Add a comment